Project Prometheus
1966, 1967, 1968
In Memory
Bob Matthews (Faculty) - Class Of 1966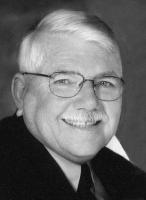 From the Roseburg News Review, December 4, 2018:
September 13, 1932 - November 15, 2018
Bob Matthews died at his home on November 15, 2015, surrounded by family. He was born in Roseburg, Oregon, to Albert and Neva (Pickens) Matthews and grew up on the family farm in Myrtle Creek.
He attended Myrtle Creek schools, graduating in 1950. He was involved in athletics, playing football, basketball and baseball. A knee injury in football kept him from military service during the Korean War. He was a good pitcher and was offered a tryout with a major league organization but declined and attended College of Marin in Marin County, California, intending to go into engineering. He changed his mind and transferred to SOCE (SOU) in Ashland, in education.
Bob met and married LaVonne Olson and three sons, Kevin, Greg and Bruce, were born in Ashland. He pitched on the baseball team and had his tuition ($34 per term) paid. Upon graduating in 1956, he took his first job teaching junior high in Dorris, California, in 1956. Sons John and Drew were born in Klamath Falls during this time. He attended summer school and received a masters degree in education at Southern Oregon. In 1962, he accepted a job in Riddle, where he taught high school Social Sciences and English. He was quite involved in coaching especially baseball and several teams placed high in the state tournament. He coached baseball from little league to varsity and all-star teams. He also coached football and basketball. In the early 1970s, he completed an administrative certificate at the University of Oregon, and became the assistant principal, guidance counselor and curriculum director at Riddle for the rest of his career, retiring in the early 1990s. LaVonne died in 1996.
Bob was involved in community service activities through the years including Riddle City Council, Lions Club, and Pioneer Days in Canyonville, and was the Pioneer Days Father. He volunteered with the Canyonville Pioneer and Indian Museum for several years.
Bob loved singing and was in choir. He often said he would like to be Frank Sinatra. After retirement, he and LaVonne traveled, with trips to Alaska, British Columbia, and across the continental US.
He married Barbara (Petersen) Daily of Riddle in 1998, and remained married to her until his death.
With five boys, family life was important and a bit of a challenge on a teachers salary at that time. Family activities included summer camping and fishing trips, summer road trips, and there were lots of school associated and athletic activities. Keeping children in line was a challenge, but fortunately in Riddle transportation and activity coordination were not as complicated as now. In addition to raising five boys, local children, foster children and exchange students were welcomed. He enjoyed fishing, singing, concerts, and to travel and he had several trips with Barbara, including China, Hawaii, and two memorable trips to Arizona spring training. Bob and Barbara enjoyed entertaining. Many fond memories of trips to the Diamond Lake area and the upper South Umpqua river were made, in addition to backpacking trips, ocean fishing in Brookings, and trips to Alaska.
Bob was preceded in death by his parents; wife, LaVonne; sister, Jane Briggs; and son, Kevin. He is survived by his wife Barbara; sons, Greg (Pam), Bruce (Verna), John (Janet) and Drew (Logan); and daughters-in-law, Jeanie Matthews and Norma Matthews; stepchildren, Debbie (Brad) Hendricks, Dianna (Paul) Denton, and Delinda (Lou) Razza; grandchildren, Rebecca Pittman, David Matthews, Bethany Harpool, Jonathon Matthews, Sarah Faircloth, Amollia Clarke, Jefferson Matthews, Morgan Matthews, and Bailey Matthews; great-grandchildren, Corey and Tyrian Pittman, and Freya Matthews; in addition to numerous step-grandchildren and great-grandchildren.
Bob touched the lives of countless persons throughout Southern Oregon as a teacher, coach, administrator, mentor, and friend. He will be greatly missed.
Memorial contributions may be made to Riddle High School or to the Alzheimers Association.